In the world of social media marketing, if one randomly whisper these forbidden words — new algorithm changes –, things might turn into serious turbulence even if it's just a spare of a joke. Although, not in a literal sense, a drastic algorithm change can truly affect every business that uses social media for marketing. In this case, digital marketers from Facebook are shuddering in distress about how the new feed algorithm will disturb their marketing effort.
Shocking. Disturbing. Life-changing. Catastrophic. These are some of the adjectives the users claimed to describe the new Facebook rules and you can tell the matter is overwhelming or rather apprehensive considering the uproar. After all, Facebook is the biggest platform for social media marketers in reaching prospects and promoting the business brand. That's why the need to be updated about the Facebook algorithm changes is fundamental.
Let's take an objective run-through about the controversial change. But before that, let's define what the Facebook algorithm is.
The major objective of Facebook algorithm modification is to provide a superior user experience. However, these positive motives from Facebook don't come always as a "gift-from-heaven" to other users, especially the enterprising minds. At some point, it appears to cause major turmoil and often become a subject of debate in the technological world.
Facebook has become a promenade of marketplace and lead generation. Thus, the algorithm objectives came in as an antithesis for marketers. Just so you know, the goal of the news feed is to show content stories that matters and are relevant to users. The Facebook algorithm determines what content should appear on your news feed — considering various factors including engagement, timeliness, and relevance as major criteria on the calculation. Therefore, the result of the algorithm summation assumes the likes of Facebook users.
The New Feed Algorithm 2018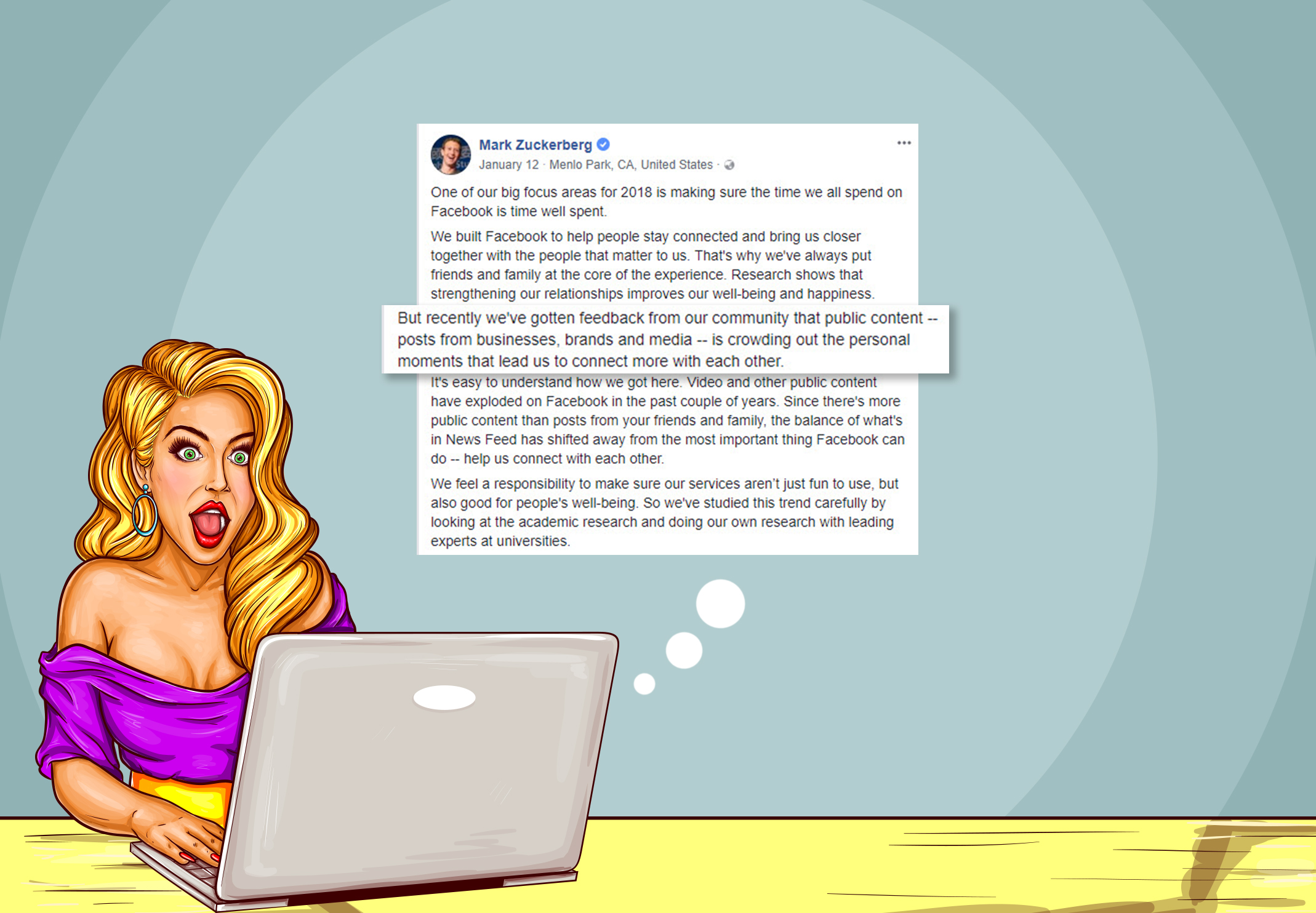 Earlier this year — last January — Facebook CEO, Mark Zuckerberg penned a Facebook status announcement explaining that the new feed algorithm would focus on populating friends and family content on users' news feed, rather than businesses and brands. In different words, posts from business pages will not be prioritized. Furthermore, Zuckerberg expounded that meaningful interaction between people are encouraged that's why public contents from enterprises and media will be seen less.
With this variation, digital marketers certainly felt their blood run cold as it can make their marketing effort overlooked. This so-called cleaning spree of the new algorithm dictates how much buzz your marketing can make on Facebook. Possibilities are your marketing strategies will have less visibility and the ROI will significantly drop, resulting Facebook platform to become an obsolete avenue for marketing and branding.
It is quite true that digital development had help business marketers in expanding the noise of their brand for revenue, but it seems the Facebook platform is taking a left turn in focus for the user's personal and holistic interactions.
The Verdict for Digital Marketers on Facebook
Nobody knows what the future holds for the thriving digital marketers. Facebook algorithm modification will constantly change from time to time. With a clear understanding of this realization, one must be vigilant and flexible whatever bomb the social media drops. Although Facebook is unstoppable in mandating the new feed rules, the CEO highlighted in his statement that meaningful interaction is the key to reaching the customers.
This means that contents with engaging quality will dominate the feed while posts with fewer reactions will experience traction. The verdict, digital marketers can still win their game by producing quality content consistently. Page polls, insightful blogs without blatantly focusing on sales or other relevant topics can spark attention to users and eventually win them as prospects and consumers. So heads up! The new algorithm doesn't fully turn their back on you. Thrive on your content and ace the game with fashion.